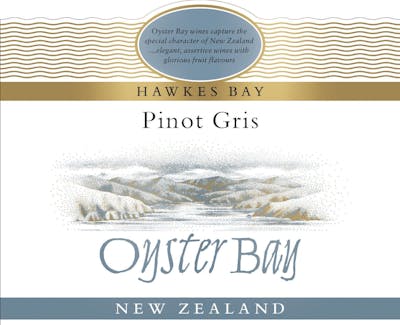 SKU: P-15729
Oyster Bay Pinot Gris 2019
---
---
The philosophy of Oyster Bay is to produce fine, distinctively regional wines that are elegant and assertive with glorious fruit flavors. With flavor intensity and hallmark aromatic characteristics, Oyster Bay Hawke's Bay Pinot Gris captures the delicate aromatic flavors of Pinot Gris while retaining its natural vibrancy and purity. It's perfumed notes and soft hints of ginger introduce a soft yet, delicate style with fresh citrus vitality that dances across your tongue. A unique cool climate expression of this wonderful varietal. Delicately scented pear and nectarine, a graceful stonefruit and floral backdrop with lively crisp apple freshness. Oyster Bay Hawke's Bay Pinot Gris is ideal as an aperitif or perfectly matched with salads, fish tacos, crab, calamari, fragrant curries, and fresh Asian flavors.
Though quite salty and reductive to start, there's plenty of ripe pear, stone fruit and honey lurking beneath. The palate lacks cohesion, with the sharp-edged acidity feeling disjointed from the creamy texture and the fruit losing its way.
Crisp lemon sherbet, lime zest and subtle lemongrass notes are juicy and fresh, showing good intensity. Drink now. 10,000 cases made, 1,890 cases imported.