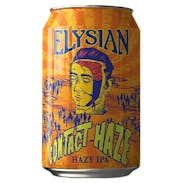 Elysian Contact Haze 12 oz.
Not just typical citrus and tropical notes, we use a unique combination of punchy hops. An aroma and…
Elysian Dragonstooth Stout 22 oz.
Pours a deep, midnight black with a light tan head. Smells of coffee and dark chocolate and the mout…

Elysian Full Contact Imperial Hazy IPA 6 pack 12 oz.

Elysian Night Owl Pumpkin Ale 6 pack 12 oz.
Like pumpkin pie, with a rich smoothness. Big, mouth-coating and satisfying.

Elysian Space Dust IPA 6 pack 12 oz. Bottle
The hopping is pure starglow energy, with Chinook to bitter and late and dry additions of Citra and…

Elysian Space Dust IPA 19.2 oz. Can
The hopping is pure starglow energy, with Chinook to bitter and late and dry additions of Citra and…