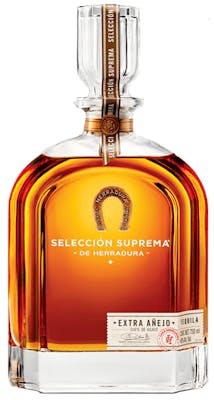 SKU: 744607015202
Herradura Selección Suprema
---
Unavailable
We're sorry, but this product is not currently available.
---
Incredibly complex yet impossibly smooth. Aged for an incredible 49 months in American White Oak barrels, Herradura Selección Suprema is our most premium ultra-rested tequila. Extra aging creates a tequila of an extremely rich, dark amber color with cooked agave, spice and floral notes. Exceptionally smooth and complex, Selección Surprema has a lasting, subtly-sweet aftertaste.
This Tequila, aged for a whopping 49 months, smells boozy and caramelly, like Bourbon, and has a maple syrup tint. Despite the oaky flavor and long caramel finish, a faint peppery touch identifies it as aged Tequila. Coddle this elder statesman with lots of aeration and ice for maximum flavor.