J.K.'s Scrumpy Northern Neighbor Farmhouse Cider 12 oz.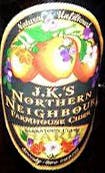 Unavailable
We're sorry, but this product is not currently available.
Although this year's harvest never came in, last year's bumper crop and organic apple shipments from other parts of the country are helping meet demand. The meteorological swings in Mid-Michigan eventually led to the creation of another type of cider beverage, one that could be easily produced using alternative suppliers. "Its called "Northern Neighbor". We buy apples from up north and we buy Saskatoon berries from Saskatchewan, in Canada.